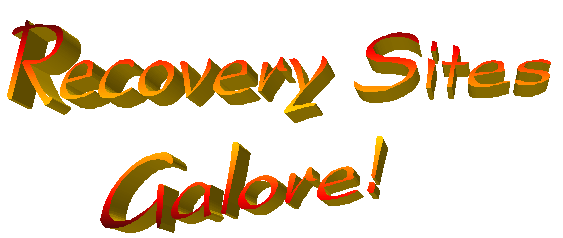 These are sites that you can spend hours and hours exploring. I wish I had half the talent that these folks have for putting a website together!! I don't think that anyone could do much more with this medium to reach those that still suffer. I have added some state and regional sites that I have found also. If you find any sites you feel should be posted here, please feel free to e-mail me.
Kind of speaks for itself, eh? World Services has just revamped their site. Go check it out!!
Another site chock full of links to almost every aspect of AA on the Internet!! A most comprehensive site indeed and well worth exploring.
Free AA screen saver to download, Chat Meetings, hundreds of quotes, unique recovery gifts, and loads of links to recovery related sites. This is an excellent resource for all of Bill's friends. Thanks Ken!
The West Baltimore Group of Alcoholics Anonymous Homepage
Including a brief history of the group, this site offers local meeting information, activities, humor, and local Alanon/Alateen information.
Minneapolis and Suburban Area Intergroup Association of Alcoholics Anonymous
This regional site features local meeting times, contact information, activities, and AA related links. There is also a page on this site entitled, "Service Opportunities." A site that offers 12th Step work!! What a wonderful concept!


Please feel free to send me e-mail.
I have made a commitment to be of service to all who reach out.


Disclaimer:
ęCopyright 1997 - 2018. All rights reserved. These pages are privately maintained and are in no way affiliated with Alcoholics Anonymous« or any other organization or institution. The views and/or opinions are solely those of the author(s) and does not represent the views or opinions of any organization.
Last edited on: May 01, 2004